Hello friends! Welcome to my new website, and my first blog entry. I have been undecided about where to begin with blogging. My mother has been in my thoughts a great deal lately, and a few weeks ago I thought about starting my blog with her. Since Mother's Day is tomorrow, it is time to stop pushing it off and to start writing so I do not lose the opportunity to make it timely.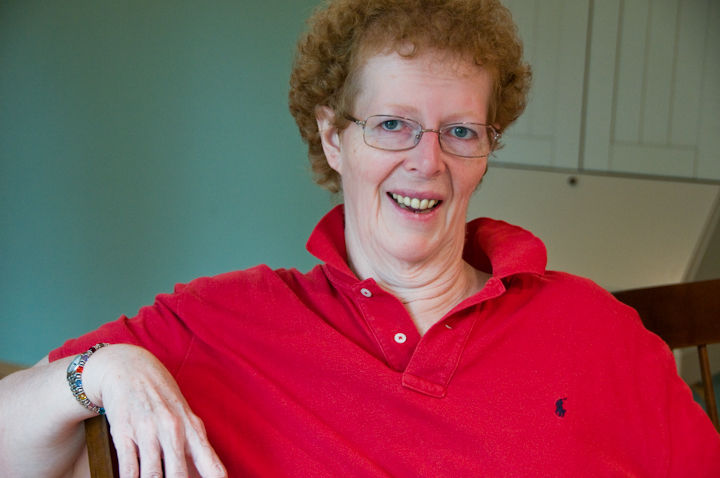 My mother passed away in October 2008 from cancer. The above image of her was taken in July 2008 during her last visit with us on the west coast. I love this image. It makes me feel like we are hanging out and chatting in the kitchen. Talking and spending time in the kitchen are two things my mom enjoyed.
Today I want to focus on one thing about my mother that greatly influences my life and my art. She was a beautiful craftsman. The skills she mastered during her life include knitting, crocheting, quilting, smocking, embroidery, sewing, and pattern-making. She always used the best materials available, and paid close attention to the details. During her lifetime she shared many of these arts with me. They are skills that have cycled in and out of various phases and stages of my life and have provided me with sustaining creative outlets. Today I want to thank her for sharing them with me, but most of all I want to express gratitude for teaching me to strive for perfection in my creative endeavors. It enhances the journey and makes all the difference in the end result.
Two years ago for an Experimental Photography class I was taking at Photographic Center Northwest we had an assignment for which I used my mother's beautiful handiwork as a subject. Using a flatbed scanner, I captured images of a baby dress that she had smocked for my younger daughter.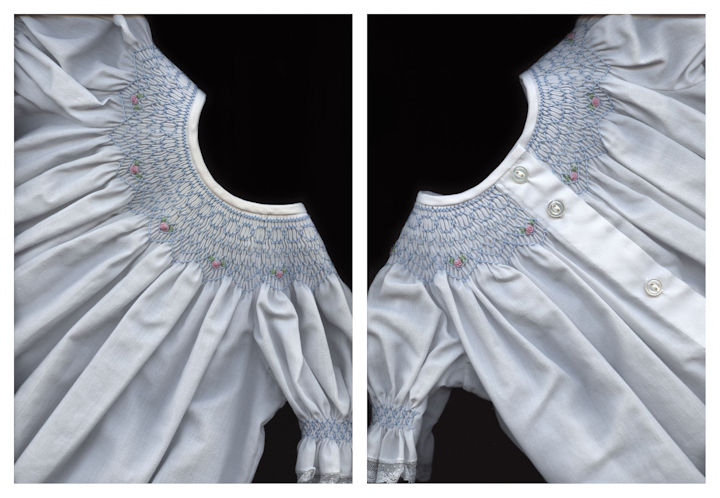 For the class, I played with multiplying and combining the images in various ways. I had suggestions from classmates to make it kaleidoscopic, but moved on to the next assignment without getting around to it. For Mother's Day, I decided to give it a try, as a tribute to my mom that combines her art in smocking with my art in photography.  The results are shown below.
Thank you Mom.  Welcome world.